had breakfast a bit earlier today "still pretty late" , so was able to get some shots of the breakfast outlay we are offered each morning,  quite impressive considering our rooms are dirt cheap and breakfast is included.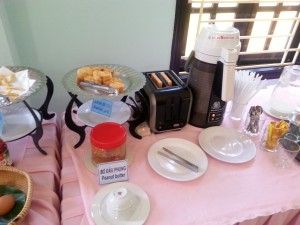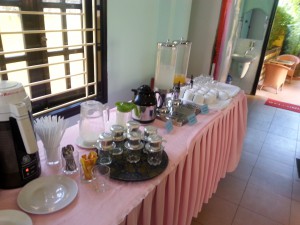 Surprisingly its been me who has been the first to rise each morning, not sure whats up with that,  I usually find it very difficult to get out of bed in the Mornings.  Not so yet.
First and Second Fitting at Kimmy Tailors
What an experience this was, walking the 15 minutes from our Hotel to the Tailors was a very poor choice,  by the time we arrived I was already sweating like a pig from the walk,  and know i had to try on a full suit (lonsleeve shirts and all),  to make matters worse there was no aircon (I found out there was a fan above me I could have turned  on,  but I never saw that).  Kimmy Tailors is a very busy place, partially why I picked it, "popular generally means good right ?" Anyway, I had no idea what was going on at the first fitting,  I was completely thrown when I tried to do up my pants and there was no button holes,  "just stood in the changing room still furiously  sweating until I realised my shirts  where the same.   Rookie mistake I guess.
Below are a couple of shots of me wearing one of my Suits through its first fitting,
https://www.youtube.com/watch?v=vedh8yz5_00
Tailored Shoes purchase
shortly after the first fitting of my Suit at Kimmy Tailors, I decided i should probably get some shoes done to go with them,    Thankfully i was clued up enough to give them my Orthotics I'd been using ever since my knee injury, however the downside of this was i had to spend the rest of the day without them,  and today would involve a lot of walking.   Thankfully my Knee didn't give anymore grief  beyond what I experienced initially while waiting for my accomplice  Mark to make his mind up on one of his many purchases for his friends and family back home. we went for a swim again today and encountered a German tourist who joined us shortly after it turns out  that he is in the first week of a world tour 'having never really left Germany(my destination next year) before in his life. his plan was to spend around 10 weeks in vietnaam before touring the great nation of 'wait for it' NZ, yip he was planning to visit our neck of the woods immediately after for around another 10 weeks, so we helpfully assisted him to plan his trip.
'Full Moon/Lantern Festival'
Not long after our swim we headed out again to grab dinner at the local food court, where a local tried to charge Mark for using the Public bathrooms before we  had eaten, turns out once you Purchase some food theres no charge, but It was quite funny watching him negotiate a price to use it, before walking away.   as i've basically been eating a different  vietnemese dish every lunch and dinner time, i decided to change it up tonight, and see what a vietnemese interpretation of a hawian pizza was like.
after dinner we checked out a few of the local stalls, as we'd been doing pretty much whenever we were in town, which most of the time, only this time I actually bought something.
Purchasing Lanterns for the launch down the river  is made insanely easy as  every man and his dog are trying to sell you one.  And when negotiated correctly works out to be about 60c  a lantern.
After mark launched the Two lanterns he had purchased, one of which capsized on route,  Mark realised he forgot his Tripod so we grabbed to taxi back to go back and get it, which wasn't as easy as you'd think, becasue as  a resjlt of the festival  all neigbouring roads are closed motor traffic, so we had to walk some distance first, such that we decided to return back on foot anyway
The number of lantern in the river didn't look like much to begin with, but  as the  night went on, it turned into  quite the spectacle.
We closed the night with a very nice Chocolate Mousse, from a restaurant I wanted to try.  It was very good