Dual Tailored Pickup day.
After Enjoying my biggest breakfast to date, i decided to relax a bit in our Hotel room, before heading to the Shoe Tailors first at 12pm.
Putting the shoes on, "with my orthotics already in place" they didn't appear to be any different to any other pair of new shoes i'd ever tried on before (what did i expect?,  no idea).  Given they fitted and they looked liked i'd requested I decided I should probably pay them(photos below).
placng my new shoes in my pack, I headed over to Kimmy Tailors to Pick up my Suits and Shirts and  after checking the final modifications to my trousers had been carried out,  I completed the purchase of these also .
As  a result of my suspected future luggage issues, and to preserve my suits, I've decided not to take my newly tailored clothing out of its compressed/ and protective packaging for photos, as i know there is just no way i'd get it all packed back in and ready for transport as well as it is presently.   So these snaps will have to suffice for now.
It was about 2pm by the time we had  finished at the Tailors, so now despite carting around both my New Shoes, as well as 5 Shirts, three pairs of trousers, and two coats, we decided to find somewhere to grab lunch, rather than take a Taxi straight back  "which would have been logical" but i  wasn't complaining, Mark offered to carry my clothes for me, "I suspect as a result of having made me wait so long in the Lobby, while  he chatted to the Tailor regarding his new Shorts he'd decided to get done a bit last minute.
we had  lunch at "Morning Glory"   the first and probably only  restaurant name I've recalled after having walked back out.
funny that Business's with Vietnemese names just ain't as memorable to a Westerner, how  odd  

.
For lunch Today i had yet another Frozen Coffee Concoction alongside, what passes for a Tradional Vietnemse Regional Soup from these parts
I found the Soup  incredibly hot at first  "must have had some sort of Chilli powder in it"    But I got through in in the end.   On that note I'd like  to point out, that despite  how Fussy i am in New Zealand, to date I have finished  every meal I have started.  So either the food here better suits my palllet, or overnight I've suddenly acquired a taste for random vegatables,  Bizarre.
After Quietly Chuckling, while we observed how Ice  was delivered to the Restaurant.  "The delivery Men wear some sort of raincoat to protect themselves from the constant outpouring of water from the Huge bags they lug inside.   we decided we should probably call a Taxi, and get my Recent Purchases back home "the locals had been increasing fervent, (it was already nuts at times) in trying to sell us stuff since they'd seen we'd  been carrying freshly tailored Suits , from a local top Tailor.  (there's advertising all over the carry bags).
Not long after getting back, we went for another swim,  just like we'd done in days Prior, before  relaxing for  a bit and heading out to the Local Food Markets,  to grab dinner from one of the local stalls.
a local woman, very quickly grabbed mark and convinced us to eat at her establishement, while not long after another local came over with a drinks menu "later we found out this  was from a seperate establishment".  Given the woman only sold food she didn't seem to mind essentially her competition selling us their goods while we sat down at her store.  And thats essentially what alot of these street tores  and merchents  where. it still amazes me how courteous the Locals are to their ccompetition,  i would have expected a bit  more  customer Poaching to go on,  but havn't seen a bar of  it anywhere.
Anyway this  woman cooked us one of Her Specials  "MI QUANG"  for 20,000 Dong  each  (about $1.20 NZD) the same price the other establishment charged for each of My Drinks,  "Started to suspect I was robbed on those," haha I just love how cheap stuff is here.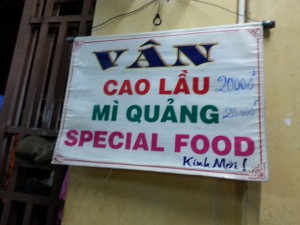 for a $1.20 NZD that was one great amount of good tasting food.
After talking to the locals a bit more and checking out a few more roadside  craft shops, we headed back via a slightly different route, so I could try out a partculer Local Coffee House.

Unfortunatly for me i accidently ordered the Iced Variety of the Coffee I'd asked for ,Because when the waitress had said "Cold" I thought she had actually said "whole"  (as in did i want Whole Milk).
Oh well guess i'll have to come back tommorow, as i'd  just spent the last of my local currency till I visited another ATM.