Enjoyed another fantastic home cooked breakfast, at the Jade hotel in Hue.  This time helping myself to three courses. Corn flakes with yogurt, fried eggs and banana and honey pancakes. All on top of the fruit selection each guest is provided with every morning upon first sitting down.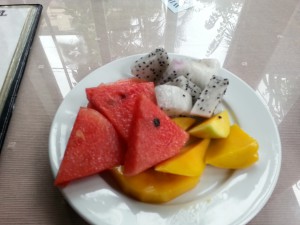 Shortly after breakfast I watched highlights off the all blacks thrashing of USA in the rugby over the weekend while waiting for our taxi to arrive and tale us to our next city. Hoi-An.
Over the duration of the 3hr drive, we arranged to have the taxi take us to several of the destinations we were planning to visit as part of a motorbike tour today, however heavy rain was forecast, hence the taxi
Da Nang beach, one of the stops, was a very nice beach, and not very crowded at all, noticing bit of a drop off from the side of the road down to the beach, and determining sufficient runway, I had a go at practicing my long jump skills, something I haven't done in a very long time. not sure what's in the air or "bottled water"" I've been drinking here, but at times I've been feeling like I have boundless Energy.
Perhaps, I can put it down to the fact I am eating and drinking more here then at any other time in my life, and not only quantity but the nutrition content of both my chosen fluids and solids on average would be drastically higher as well. (note to self) re assess upon return to NZ
Kimmy Tailors
The final stop before reaching our accommodation was visiting the top tailoring store in Hoi An (the lantern and tailored clothing hub for the entire country). The two main things we were in Hoi An for.
I'd planned on purchasing a couple of suits but ended up adding on three additional shirts and another pair off custom chino style pants.
Not sure yet how I plan fitting it all in. My luggage yet, but I'm very resourceful so I'll find a way,
apparently the whole process takes 3-5 days and a minimum of 2 separate fitting appointments. So you can expect photos around my Day 7 or 8 entries.
After checking into our accommodation which I must say yet again is incredible value for money we went out for dinner in the old quarter of our new home (for the next 4 days), like everywhere it seems the service is impeccable and surprising nowhere near being overcrowded which I find a little surprising and of major benefit as I particularly hate having to try and get a waiters attention.
I must say it seems our months of pre-planning this trip have really born fruit up too this point, I'm very happy with the way things are going and I'm notoriously hard to please, as those who know me are well aware I'm sure.